K. Brian Soderquist
The Isolated Self
Truth and Untruth in Søren Kierkegaard's
On the Concept of Irony

Robert Leslie Horn
Positivity and Dialectic
A Study of the Theological
Method of Hans Lassen
Martensen

Jon Stewart
A History of Hegelianism in
Golden Age Denmark
Tomes I-III

Curtis L. Thompson
Following the Cultured Public's Chosen One
Why Martensen Mattered to
Kierkegaard

Johan Ludvig Heiberg
Philosopher, Littérateur,
Dramaturge,
and Political Thinker
Edited by Jon Stewart
Hans Lassen Martensen
Theologian, Philosopher
and Social Critic
Edited by Jon Stewart
The Heibergs and the Theater
Between Vaudeville, Romantic Comedy and National Drama
Edited by Jon Stewart
Katalin Nun
Women of the Danish
Golden Age
Literature, Theater and the Emancipation of Women
Volume 3



Jon Stewart

A History of Hegelianism in Golden Age Denmark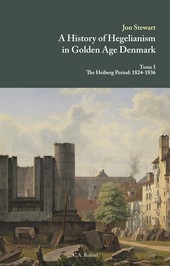 Tome I:
The Heiberg Period: 1824-1836

Date of Publication: 2007
Hardback. xxi+629pp. ISBN 978-87-635-3086-6
The present tome is the first of a three-volume work dedicated to exploring the profound influence of G.W.F. Hegel's philosophical thinking in Golden Age Denmark. This initial volume covers the period from the beginning of the Hegel reception in the Danish Kingdom in the 1820s until 1836.

The dominant figure from this period is the poet and critic Johan Ludvig Heiberg. While Søren Kierkegaard's polemic with the Danish Hegelians is well-known, the actual texts and ideas of these thinkers have received little attention in their own right.

The present work demonstrates that this largely overlooked tradition of Hegel reception played a profound and indeed constitutive role in many aspects of Golden Age culture: philosophy, theology, literature, poetry, law, journalism, the arts, etc. Moreover, it brought into its orbit most all of the main figures from the period.

Table of Contents → Order the Book →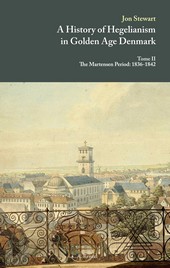 This second tome treats the most dynamic period in the history of the Danish Hegel reception, namely, the years from 1837 to 1842. The main figure in this period is the theologian Hans Lassen Martensen who made Hegel's philosophy a sensation among the students at the University of Copenhagen in the late 1830s.

This period also includes the publication of Johan Ludvig Heiberg's Hegelian journal, Perseus, in 1837 and 1838, and the monumental review of it by Frederik Christian Sibbern. During this time Hegel's philosophy flourished in unlikely genres such as drama, with Heiberg's speculative comedy, Fata Morgana (1838), and lyric poetry with his New Poems (1841), which included his satirical classic, "A Soul after Death." This period also witnessed Hegel's philosophy make inroads in fields such as jurisprudence and art criticism. During these years Hegelianism enjoyed an unprecedented success in Denmark that began to fade as it gradually became perceived as a dangerous trend.

Table of Contents → Order the Book →