Volume 7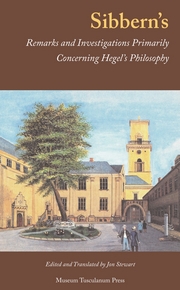 Sibbern's Remarks and Investigations Primarily Concerning Hegel's Philosophy,
translated by Jon Stewart
One of Denmark's greatest philosophers during its greatest philosophical period, Frederik Christian Sibbern (1785-1872) was a major figure on the landscape of the Danish Golden Age. Profoundly influenced by German philosophy, he was personally acquainted with figures such as Fichte, Schleiermacher, Goethe and Schelling. Sibbern had long been interested in the philosophy of G.W.F. Hegel but had never written any extended analysis of it.

When Johan Ludvig Heiberg unveiled his new philosophical journal Perseus in 1837, as a part of his Hegelian campaign, he provided Sibbern with the occasion that he had been waiting for. In a series of eight installments in the journal, Maanedsskrift for Litteratur, Sibbern published an extensive critical account of Hegel's philosophy under the guise of a review of the first volume of Heiberg's Perseus. In the fall of 1838 he collected the first four installments of this review and published them as an independent monograph entitled, Remarks and Investigations Primarily Concerning Hegel's Philosophy.

This work represents arguably the most exhaustive, detailed and profound analysis of Hegel's philosophy ever to appear in the Danish language, anticipating many aspects of Kierkegaard's famous criticism. With the present volume Sibbern appears in English for the first time. Now international readers can catch a glimpse of this towering philosophical genius and gain a deeper appreciation for the significance of his contributions to Golden Age Denmark.
(ca. 400pp.)
Volume 8

Hans Christian Andersen's Only a Fiddler,
translated by Katalin Nun and Jon Stewart

This important novel was published by Hans Christian Andersen in 1837. It immediately caught the attention of the young Søren Kierkegaard who wrote an extensive review of it, which he published as his first book, From the Papers of One Still Living. While many scholars today are familiar with Kierkegaard's review, few have ever read Andersen's text. With this translation this text will finally be made available to the international research. This work will help scholars better understand Kierkegaard's much disputed critique of Andersen by providing a glimpse into the other side of the story, namely Andersen's novel.
(ca. 500pp.)
P.M. Møller's "Thoughts on the Possibility of Proofs of Immortality" and Other Texts,
translated by Finn Gredal Jensen and Jon Stewart

Poul Martin Møller's long article on the then current debate about immortality was his most important single philosophical work. It was published in 1837 in the Maanedsskrift for Litteratur and was widely read and discussed during the period. Kierkegaard regarded Møller as a kind of mentor and was profoundly influenced by his account of the issue. In works such as The Concept of Anxiety, the Concluding Unscientific Postscript and Christian Discourses, Kierkegaard refers to Møller's article and develops his own views on the subject. This volume contains the first ever English translation of Møller's original text as well as the excerpts from these works by Kierkegaard where it is discussed.
(ca. 400pp.)
---
Volume 10
Heiberg's New Poems and Other Texts,
translated by Jon Stewart

Johan Ludvig Heiberg's satirical poem "A Soul after Death" was one of his most successful works. A part of the collection New Poems, published in 1841, it portrays the journey of a recently deceased bourgeois citizen of Copenhagen as he tries to gain entry to Heaven, Elysium and finally Hell. Heiberg uses the piece to criticize what he takes to be the general lack of culture that he sees among his Golden Age contemporaries.

This volume contains an English translation of Heiberg's New Poems along with two influential reviews of it by Eggert Christopher Tryde and Hans Lassen Martensen. Both Heiberg's text and these reviews were profoundly influential for Kierkegaard, who refers to them in works such as The Concept of Irony and the Concluding Unscientific Postscript.
(ca. 400pp.)
---
Volume 11
Kierkegaard's "A Word of Thanks to Professor Heiberg" and Other Texts,
translated by Mads Sohl Jessen and Jon Stewart

Johan Ludvig Heiberg wrote a dismissive book review of Kierkegaard's breakthrough work Either/Or in 1843. Kierkegaard responded under the pseudonym Victor Eremita with a sarcastic polemical article entitled "A Word of Thanks to Professor Heiberg." This was the beginning of a long tit for tat polemic between Kierkegaard and Heiberg, which culminated in Kierkegaard's famous book Prefaces. This volume collects a total of 9 texts from the hand of Heiberg and Kierkegaard that tell the amusing and insightful story of this animated polemic. These texts have never been made available in English before and will help the international reader to better understand Kierkegaard's views on not just Heiberg but also literature, aesthetics, art, humor and many other topics.
(ca. 300pp.)